Made in Germany
Longevity and excellent workmanship are our quality standards.
A strong Group
We use the experience of the PEAK-Group in the hard- and software area.
Love for Detail
We combine functionality and design down to the smallest detail.
Perfect Service
The satisfaction of our customers is our top priority.
We, the PEAK group of companies, are already successfully represented on the market of CAN technology for more than 30 years. Since 2014, we have been transferring our knowledge in the area of fieldbuses to building technology with PEAKnx. Similar to the CAN bus in cars, the KNX bus also networks various devices in the house.
Our vision with PEAKnx: We bring the future into the house. In doing so, we rely on our own product development and the love for design and quality.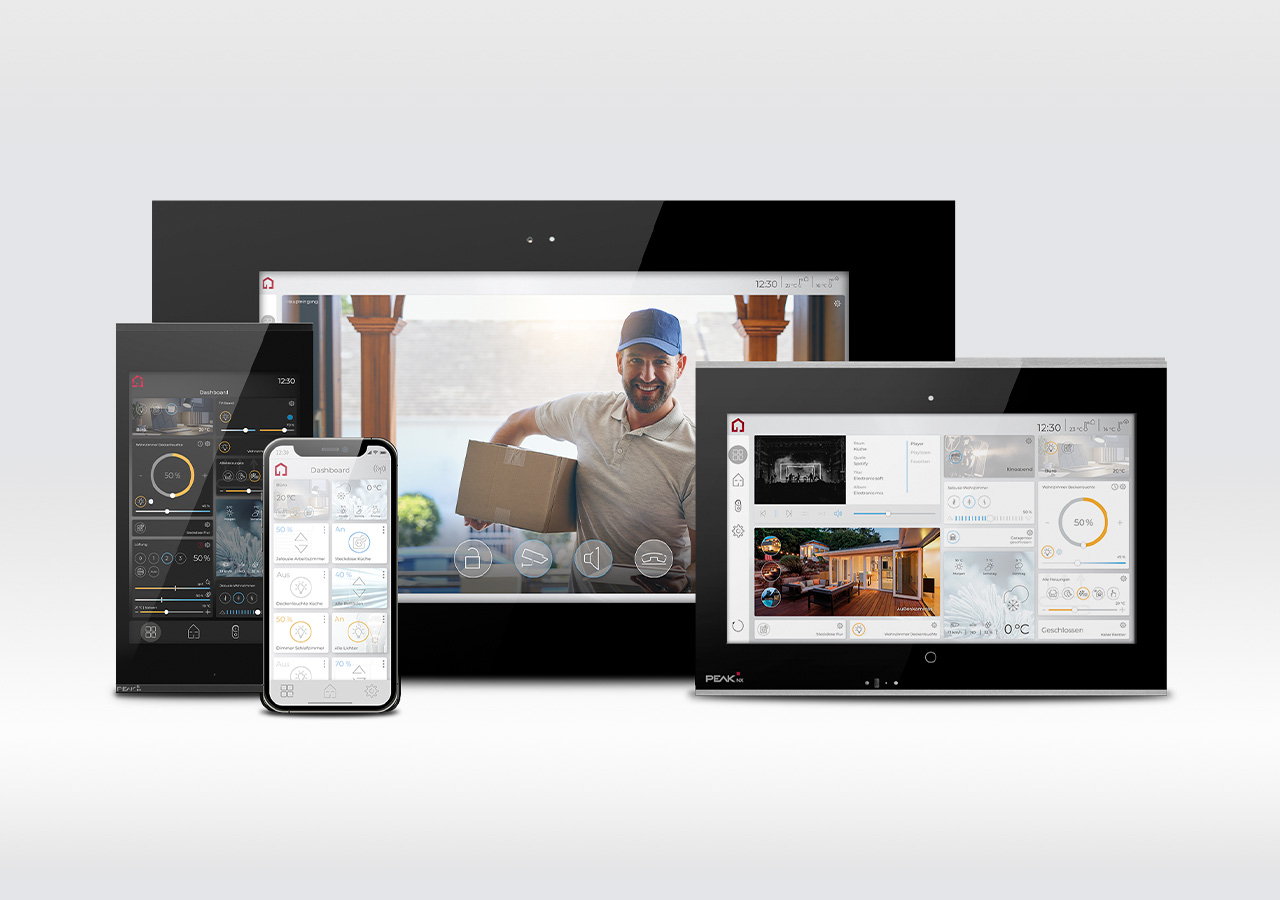 We bring the future into your home
As a manufacturer of innovative hardware and software components, we develop products for future-proof building automation. Our goal is to make our customers' lives more comfortable, secure, and cost-effective. Our portfolio includes customized front-end panels with visualisation that provide all the information of a smart building at a central point. We place great importance on the longevity of our products and the qualitative integration of design and functionality.
Through a wide network of certified partners, we also offer related services, ranging from consulting to the installation and implementation of automation projects.
How we support you
We have set ourselves the goal of making all our products as maintenance-free as possible for you. Should something not work for you, we are available daily on weekdays in order to solve technical problems as quickly as possible.
If you have any questions regarding the use of our products, their integration into your project or other topics, you can always contact our local service staff by e-mail or telephone.
Users of our hardware and software for building automation will find answers to the most common questions in the FAQ section, in our YouTube tutorials or in the PEAKnx thread in the KNX user forum.
How to reach us best
For traders, partners and interested parties
Mail: sales@peaknx.com
Tel: +49 (0) 6151 27918 24
For technical questions and support
Mail: support@peaknx.com
Tel: +49 (0) 6151 27918 25
For all topics around marketing and PR
Mail: marketing@peaknx.com
Tel: +49 (0) 6151 27918 16
What our customers say about us
"At this point I would also like to thank the PEAKnx support team who helped me with prompt answers and solutions to my questions!"
Who we work with
The successful cooperation with our partners forms the core business of PEAKnx. In the area of building automation, we work together with partners from the electrical and building automation industry.
Technology is our specialty,


social commitment our passion.

As a premium sponsor of Darmstadt 98, we have already been able to make a difference.