Visualisation for KNX smart homes
The YOUVI smart home solution enables you to control your KNX installation easily and intuitively. From home or on the go.
Watch Video
Lights (Dimmers, RGB luminaires)
Create the right atmosphere with lighting.
Sockets & switches
View devices and turn them on and off.
Shutters & blinds
Raise or lower shading devices as needed.
Timer
Specify when the function should be executed.
Heating
Adjust your home to a comfortable temperature.
Scene creation
Create scenes directly in the visualisation using drag and drop.
Web widgets
Flexibly extend the range of functions via web widgets.
Home control via app
Free of charge at home and with the Connect module also remotely.
Door communication
Integrate SIP door stations into the visualization.
Voice control
Control your KNX building by voice command via Alexa.
Automatic processes
Set if-then rules in the KNX smart home simply by yourself.
Camera Integration
Include IP cameras in your visualisation.
Bridges to other brands
Integrate devices from other manufacturers directly into the KNX visualisation.
Intuitive usability with a
maximum of functionality
Maximum 3 clicks to control the desired device
Room buttons provide an optimal overview
Winner of the Red Dot Design Award
Discover the multiple display and setting options of the YOUVI visualisation
Sensor data recorded graphically
Each sensor widget has a graph display that shows the sensor value over the day, week, month, or year.
Supported sensors
Binary
CO2 (ppm)
Pressure (Pa)
Humidity (%)
Brightness (lux)
Noise (W/m²)
Percent
Temperature (°C)
Wind speed (m/s)
Wind direction
Time (12h and 24h format)
Extend functionality with Web Widgets
Give YOUVI a few additional individual functions by displaying important websites on your dashboard. This way you will always be up-to-date and informed.
Ideas for web widgets
Outlook Calendar
News webpages
Online portals for IP devices
Music libraries like iTunes or Amazon Music
Change building structures or devices intuitively
Many changes can be made directly in the YOUVI visualisation even without a professional. Less stress and unnecessary costs for all involved is the result.
View possibilities 
Add/delete floors, rooms, buildings
Change room names and symbols
Add new devices
Make changes to existing devices
Move devices to other rooms via drag & drop
Home control on the go with the smart home app
If you want to control your KNX building remotely, you can use the additional Connect module in conjunction with the YOUVI smart home app. This is available free of charge for use at home for Android and iOS smartphones.
Set routines and automatic processes
The logic module makes your building think and takes a lot of work out of your hands. Your building reacts to defined events in the way you want it to and notifies you about them if you wish. This not only saves time, but also, for example, energy with heating automation.
Camera and video surveillance
Integrate your surveillance camera directly into the YOUVI visualisation. This is done via camera widgets that you can freely assemble and place on the dashboard. This way you can keep an eye on important places on your property.
Integrate Netatmo devices
Integrate Netatmo devices, such as thermostats or weather stations, directly into the smart home visualisation YOUVI. This way you can always keep an eye on the weather and the temperature in your smart home.
Door communication
Integrate your SIP door station into the KNX visualization and use the panel as an intercom. When the doorbell is rung, you can see directly on your touch panel, who is standing in front of the door greet the person and let them in.
Multi-room sound systems
Control multi-room sound systems from Sonos or trivum directly with the YOUVI visualization. The integrated music player widget allows you to control the music selection in the individual rooms and have an overview of it.
Smart home control with Alexa
With YOUVI you can control your house conveniently by voice command without moving a single finger. Amazon's voice assistant handles everyday tasks for you: Simply tell Alexa what actions you want your building to perform.
Guaranteed compatibility
YOUVI can integrate all devices that communicate according to the KNX protocol. This means that in addition to KNX/EIB devices, devices controlled via DALI, EnOcean or other protocols can also be connected via a KNX gateway and integrated into the visualisation.
Already included in the basic package:
Useful tools save costs and protect your nerves
Easy set-up via ETS import function
The visualisation of the devices, their room allocation as well as group functions and standard icons are already created automatically by an ETS project import.
The YOUVI add-on principle
With the add-on principle, you get a building control system that is tailored exactly to you. This means you only pay for the features you really need. The additional modules only have to be purchased once per building installation and work on several PEAKnx panels at the same time.
YOUVI Basic

Visualisation (for comprehensive building control)
Bus monitor (tool for troubleshooting)
IP router (replaces hardware IP router)
Connect Module (mobile app, voice control)
Optional
Camera Module
Optional
Logic Module
Optional
Door station Module
Optional
Netatmo Bridge
Optional
Sonos Bridge
Optional
trivum Bridge
Optional
Ikea Tradfri Bridge
Optional
Ntuity Bridge
Optional

0,- €*


* YOUVI Basic is already
included with PEAKnx hardware.
Upgrade for USB-Connector
without YOUVI for 179,00 €
Use YOUVI with the PEAKnx hardware
YOUVI is designed for use with PEAKnx hardware. Only with our touch panels, servers, or the USB-Connector YOUVI can be used and develop its full potential.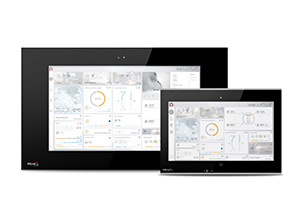 YOUVI + PEAKnx touch panel
YOUVI Basic is already included on the touch panels.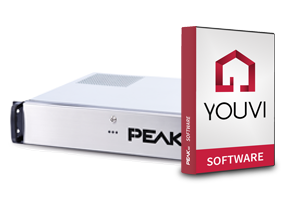 YOUVI + Performance Server
The visualisation runs on a Windows/iOS/Android device.
YOUVI smart home control at a glance
INTUITIVE USE
Find everything you need for home control at a glance.
Dark Mode
Change to a darker view according to your preference.
INDIVIDUAL DASHBOARD
Easily create your own personal control centre.
CONTROL FROM ANYWHERE
Control your home from anywhere with the mobile app.
EXCELLENT DESIGN
Convince yourself of the award-winning design.
Features
Supported devices
Installation
System requirements
YOUVI Basic Visualisation
Creating the visualization from a direct ETS import
Create scenes via drag & drop
Up to 5 different dashboard pages with 3 different dashboard layouts
Web widgets for the integration of web pages into the visualization
Diagram view of the sensor values, display: daily, weekly, monthly and yearly view
Widget for energy monitoring
Device filter by type, device state and location
Light and dark design
Visualization editable even by laymen
Add-ons, for example for the integration of sound systems, door stations and voice control
Supported languages: English, French, German

You can find the complete range of functions of the app under "All YOUVI features".
YOUVI Basic KNXnet/IP router
IP-capable devices (Controlmini, Controlmicro, Controlpro, Laptops together with USB-Connector) function as KNX IP routers, additional hardware becomes superfluous
Supports up to 15 IP tunneling connections, EIBlib/IP, multicast and extended frames
Individual transmission of incoming and outgoing group addresses via filter table
YOUVI Basic Bus Monitor
Logs all telegrams that are transmitted on the KNX bus in tabular form
Offers numerous filter and export options
Occurring faults are quickly found and solved
YOUVI Mobile App
For iOS or Android
Access via WiFi (home network) included in YOUVI Basic
Cloud connection for on-the-go access included in YOUVI Connect module

You can find the complete range of functions of the mobile app under "All YOUVI features".
Modules to extend YOUVI Basic
> YOUVI Connect Module: Building control on the road via Smart Home App and on site via voice control (online/offline)
> YOUVI Camera Module: Integration of JPEG, MJPEG and RTSP streams from the surveillance cameras into the visualization
> YOUVI Logic Module: Creation of logics, routines and presence simulations in the user-friendly logic editor
> YOUVI Door Station Module: Integration of SIP door stations into the visualization
> YOUVI IKEA Tradfri Bridge: Integration of various IKEA Trafri devices
> YOUVI Netatmo Bridge: Integration of Netatmo thermostats and weather stations into the visualisation
> YOUVI Ntuity Bridge: Integration of the Internet of Energy platform Ntuity
> YOUVI Sonos Bridge: Integration of a Sonos Multiroom system into the visualization
> YOUVI trivum Bridge: Integration of a trivum Multiroom system into the visualization
You need more information or have questions about the product?
Call us directly or send us a message.