Gerald Palmsteiner (Head of Product Management at PEAKnx) about demands, expectations and challenges in the development of our KNX touch panels.
Both the Controlmicro and the Controlmini have already received the Red Dot Design Award. What demands do you have in product development?
Palmsteiner: I like attention to detail. The feel and look of a product are very important to me. Over the last few years, in addition to initial hobbyists, I've been joined by customers who are happy to shell out a little more money for high-quality products. Products that don't come off the shelf and that also show this, because value is in the focus. We always try to find a balance between reliability, performance and energy costs.
"More power means, for example, higher energy costs and higher wear of the electronic components due to higher heat emission and thus lower reliability. We try to find the ideal balance here, which is tailored to the needs and operating requirements of our customers."
What are the challenges of development?
Palmsteiner: The biggest challenge is to meet customer expectations. Customers today are used to powerful devices in a compact design like smartphones or tablets. For these mobile devices, a 2-3 year cycle is tolerated. In the minds of many our panels are first and foremost smart light switches, which means they must be maintenance-free and have a long service life, just like a light switch. To ensure this, we rely on industrial components that have been produced accordingly for this long-term operation. A resulting higher sales price is not a problem in industry. In our business field, however, we are competing in terms of costs with fast-moving products from Apple and Co. These can produce in quantities of billions and thus naturally achieve a very good sales price with production in the Far East. But these devices are for a differentiated purpose. Our panels, on the other hand, are an individual solution manufactured in Germany, tailor-made for the high-quality smart home sector with a focus on design and functionality. We always have to emphasize this in our communication.
Aluminum frame milled from one piece
In addition, there is the current tense situation on the market for electrical parts. In the electrical industry, there are always material shortages and supply bottlenecks. Even though our products are manufactured in Germany, we are affected by worldwide delivery problems of individual electrical components. We try to prevent this by planning ahead and also rely on intensive communication with our customers to keep them informed about possible delays.
There are a large number of visualisations on the market. Why does PEAKnx develop its own visualisation software called YOUVI in addition to its original hardware business?
Palmsteiner: We have noticed that customers often underestimate the effort of a visualisation for the integrator. This programming work comes on top of the cost of an already higher-priced smart home installation. At that time, there was no visualisation on the market that used the existing potential of ETS5 to automatically transfer the parameterization work that had already been done directly into a visualisation. That's why we started the YOUVI project in 2017. Due to the fact that many of our team have been living in a smart home for years, we can bring the experience of habits directly into the YOUVI user interface and have been evolving every day since.
"Our goal is to combine an appealing contemporary look (of the visualisation) with easy creation, maintenance and operation."
What can customers expect from PEAKnx in the coming years?
Palmsteiner: With the upcoming YOUVI Homeautomation Server, we are heading even more towards the visualisation track with a clear goal: a clearly structured visualisation with fast access times and sophisticated visuals. We also want to make the work of system integrators easier, for example by automatically creating the visualisation from the ETS. Easy quick adaptation and revisions can also be made by the customer himself. We are constantly trying to push current technologies to their limits in order to provide our customers with unique products in design and performance.
The beginnings of PEAKnx
The first panel prototype was created in your private garage in 2012. How did you get the idea to develop your own panel?
Palmsteiner:I was very unsatisfied with the performance of the touch PCs at that time. The installed hardware was poorly manufactured, and capacitive sensors and multitouch were not yet in use. That's why I was looking for a way to install a tablet PC or an Ipad flush with the wall instead. But such devices are simply not designed for permanent operation. I wanted to build my own touch PC that was more powerful, more innovative, better made and above all cheaper than what you could buy at the time. It was important to me that the PC runs a real Windows system, so that I could use other software as well.
Together with the founder of the PEAK group of companies Axel Dohmann, who passed away in 2018, and with the help of the KNX User Forum, the first prototype was further developed to series production. What role does the KNX User Forum and the exchange with customers and beta testers still play for you today?
Palmsteiner: Axel always said that the forum is like a family to him. When we first presented our panel as a do-it-yourself kit in the forum, the community gave us great feedback. We were able to gain a lot of experience during this time. Through the constant exchange via the forum, we were able to see where the users' needs and pain points were. This paved the way for the start of series production.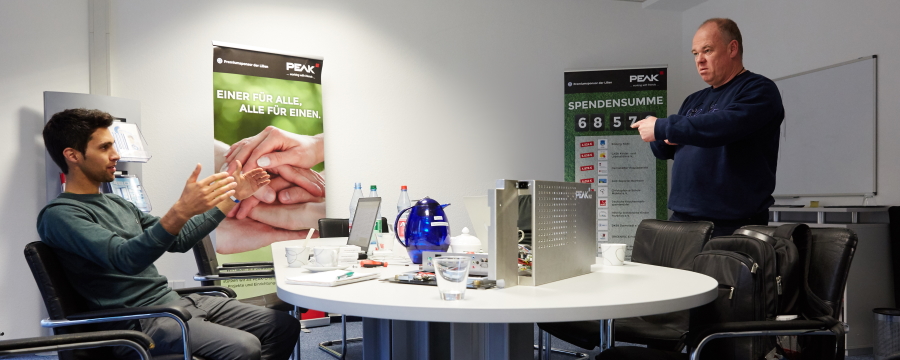 Even today, feedback from our users is enormously important to us. Through our public beta tests, we create absolute transparency about our development status and face up to sometimes harsh criticism. We use this wealth of experience, which numerous beta testers make available to us on a daily basis, for the continuous further development of our products.