Controlmini replacement kit: ABB Smart Touch
From €2,899.00
To €2,990.00
The KNX touch panel Controlmini is the perfect alternative to the ABB Smart Touch. The modern operating panel can easily display the entire KNX building control system on its generous 11.6-inch Full-HD display. In addition to the included YOUVI software, any other Windows- or web-based visualisation can be used for building control. Users thus not only receive an elegant KNX operating device with a higher resolution display compared to the replacement device, but also an appealing visualisation of the home control system. Thanks to the adapter contained in the replacement set, the Controlmini is quickly installed in the previous flush-mounted box – without the need for any further chiselling work.
Please note: The Controlmini requires a power supply of 24&nbspV&nbspDC/2.4&nbspA. To use the Controlmini in the corresponding flush-mounted box, an additional power supply may be necessary.
Current delivery time: 4 weeks
Controlmini: The reliable KNX Smart Home solution
The Controlmini is a reliable 11.6-inch multi-touch panel with integrated KNX interface, high-quality design, powerful performance and tested industrial components. As an alternative for the ABB Smart Touch, the Controlmini also covers all common functions of KNX building control. Thus the states of the most common devices (e.g. light, blinds, heating or dimmer) can be displayed and controlled without any problems. In addition to the area of house and room control, the Controlmini can also be used as a status and information display or as an intercom for door communication systems.
The ideal replacement for the ABB Smart Touch
The Controlmini is the perfect replacement device for the old ABB Smart Touch. It is a full-fledged computer equipped with Windows 10 LTSC, which enables the use of all Windows- and web-based visualisation systems (e.g. Gira QuadClient, X1 or CubeVision from BAB-Tec). The desired visualisation can be shown on the larger and higher-resolution display without any problems. Or you can use the included visualisation YOUVI, which automatically creates itself from the ETS project and fulfils the highest design demands. In addition, users benefit from the features provided by Windows, such as fast navigation using wiping gestures or eye-friendly operation in the darkened night mode. The preinstalled Windows LTSC reduces maintenance and software problems as no Windows updates are allowed except for security updates. Browser applications, e.g. for playing music on external speakers, can also be used via the Controlmini. The flat Controlmini becomes a real eye-catcher in the KNX Smart Home with an individually designed glass cover. Its low installation depth ensures that it can be installed almost flush with the wall without the need for a new flush-mounted box.
YOUVI: The All-in-One package for KNX home control
The YOUVI Basic software package is also included in the scope of delivery. The KNX software includes visualisation, IP router and bus monitor software. Thanks to YOUVI and the integrated KNX interface of the Controlmini, the execution of all basic control tasks of a KNX smart home is possible without the need to access an external server or IP router. With the YOUVI modules, the range of functions can be flexibly extended.
Installation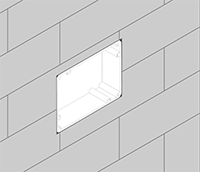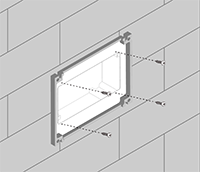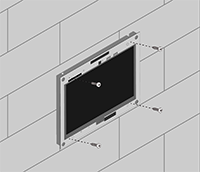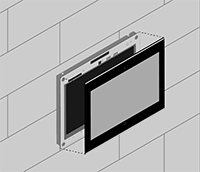 Easy replacement of the old panel
The installation of the PEAKnx Controlmini in the old flush-mounted box is done in just a few simple steps:
Switch off the power supply and remove your old control panel from the flush-mounted box.
Use the PEAKnx adapter frame and attach it to the flush-mounted box with the respective ABB screws.
Attach the 24&nbspV wires from the power supply to the screw terminals (GND, 24&nbspV) of the Controlmini. Connect the KNX and network cables to the panel. Attach the Controlmini to the black frame of the adapter using the supplied screws.
Insert the glass cover into the magnet holders.
Scope of delivery
Controlmini
Controlmini glass cover
YOUVI software package basic
Assembly and operating instructions
Network connector
Network patch cable
Certified cleaning cloth (5 pieces)
Leaflet for cardboard boxes
Surface-mounted frame for the ABB Smart Touch
Four M3x12 countersunk screws for panel installation
Downloads
Current software, manuals and other documents with information about the Controlmini can be found in our download area.
Controlmini specifications
Intel Quad core processor
Fanless convection cooling (airflow)
4GB RAM
eMMC 64 GB memory, extendable with Micro SD
11.6 inch Full HD LCD panel with LED backlighting
Resolution 1920 x 1080 pixels
PCAP touch technology
HD webcam
Broadband stereo speakers
Optimised microphone with room characteristics
WiFi: 2,4GHz IEEE 802.11b/g/n
Bluetooth: 4.0
Controlmini ports
2 x USB 2.0 (front port)
1 x USB 3.2 Gen1
100 Mbit Ethernet
1 x mini HDMI
KNX
Supply terminals: 24 V DC, GND
Controlmini software
Operating system: Windows 10 IoT Enterprise LTSC
YOUVI software package Basic
Controlmini dimensions
Dimensions Controlmini (W x H x D): 297 mm x 210 mm x 22,5 mm
Dimensions glass cover (W x H x D): 297 mm x 210 mm x 0.7 mm
Controlmini supply and power consumption
Supply voltage: 24 V DC 2,4 A
Operation (idle): 10 W
Operation (full-load): 15 W
Server operation without LCD: 5 W
Surface-mounted frame for the ABB Smart Touch
Dimensions (W x H x D): 258 mm x 199 mm x 17 mm
Weight: 238 g
Compatible control panels:
Busch-ComfortPanel 9" (8136/09-811, 8136/09-825)
Busch-ComfortPanel 12,1" (8136/12-811, 8136/12-825)
ABB Raumpanel / Controlpanel (6136/30M-500, 6136/100M-500, 6136/100C-500)
Busch-Jaeger Controlpanel color (6136/100CB-102, 6936/100CB-102, 6136/100C-102, 6936/100C-102)
Busch-Jaeger Raumpanel (monochrom) / Controlpanel (monochrom, color) (6136/100C-101, 6136/100M-101, 6136/30M-101, 6136/100CB-101; 6936/100C-101, 6936/100M-101, 6936/30M-101, 6936/100CB-101)
ABB SMARTtouch (monochrome, colour) (6136/100C-500-102, 6136/100CB-102, 6936/100C-102, 6936/100CB-102, 6136/100C-500-101, 6136/100CB-101, 6936/100C-101, 6936/100CB-101)
Compatible flush-mounted boxes:
8136/01 UP-500
8136/01 UP
6136/UP
We found other products you might like!